Reasons To Hire A Professional Battersea Cleaning Service For Your Office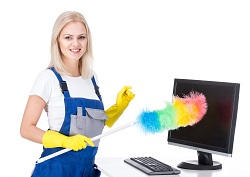 Why Choose Us As Your Commercial Cleaners
At Carpet Cleaning Battersea, we believe in making sure that your office cleaning needs are taken care of so that you can focus on what's important. Our commercial cleaners are trained to use the latest technology, equipment, and techniques to make sure your company is given a professional level clean each and every time.

We understand that you may need your office to be cleaned out of hours and our office cleaners in Battersea will be able to do this for you without any disruption or worry. We have a strict supervision policy in place and our staff work efficiently under pressure so you can still depend on us even when time is tight.

Our team of commercial cleaners take great pride in their work and make sure that they get the job done accurately while ensuring the highest standards of cleanliness. We provide all types of services such as vacuuming, dusting, window cleaning, sanitisation and more. So whether you're looking for a one-off deep clean or regular cleaning support, our team has got you covered.


Customise Your Cleaning Service
We understand that every business is unique and requires different levels of care when it comes to its cleanliness. Our experts allow you to customise your service package using various add-on options like extra detailing on polishing areas which might require more attention or specialised treatments such as carpet shampooing. Furthermore, if there's anything else specific you may require us to look after but do not find on our list, feel free to give us a call on
and speak with one of our team members who'll be more than happy to help accommodate any special requests within reason.

Experienced Professionals

We employ only experienced professionals who take great pride in their work and they will always strive their best to make sure you are satisfied with the result. All our staff are carefully chosen based on their expertise, training and qualifications as well as their commitment to providing excellent customer service. Our team is also friendly, courteous and punctual so you won't have any worries about them disrupting your daily operations. We use green products only for all our office cleaning services which not only helps keep your environment clean but is also better for your employees' health too!

Affordable And Timely Services

When it comes to commercial cleaners Battersea services, we don't compromise on quality ever! No matter how big or small the job is, we guarantee that it will be completed on time and within budget. Plus, if required, we can even arrange a same-day emergency service so whatever your needs may be, we got you covered!

Furthermore, our team also provides special offers from time to time so make sure you contact us on
to find out what savings can be made when you enlist our services today!